Your Complete Solution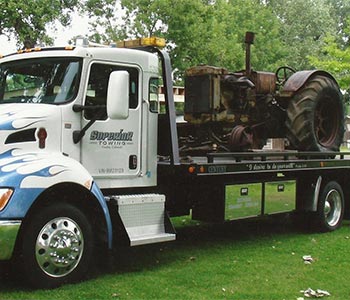 Auto issues can happen at any time and when they do, it's important to have a plan. When those issues leave you stranded on the side of the road with a vehicle that's unable to travel for any reason, your plan should always start with a call to Superior Towing.
At Superior Towing, our mission is to make roadside auto issues as painless as possible by quickly resolving them. From roadside issues, like gas delivery, starter troubles or tire changes, to tow-away service for vehicles of all types, our team has the resources and skills to thoroughly address any problems you might be facing out on the road.
Towing for all vehicles
Not every towing service in Greeley, CO has the ability to tow specialty vehicles or heavy-duty trucks. At Superior Towing, we do! Our fleet consists of tow trucks in varying capacities, giving us the ability to haul just about any vehicle to safety, including:
Trust the towing service experts
When it comes to car and truck towing in Greeley, Garden City, Kersey, Windsor, or Loveland, CO, there's no one better in the business than Superior Towing. We have years of experience behind us, a fleet of trucks beside us and the entire country in front of us!
For more information about any of the towing services we offer or to inquire about our capabilities in regards to towing or roadside assistance, please contact us today by calling 970-330-2440.